This business is enough to make you bipolar.
Yesterday, someone went out of their way to inform me that while the technical content in TLS Mastery was impeccable, the book was not as funny as my other tech books. If any other author had written this book they would give it five stars, but on the Lucas Scale it rated only four.
First: it is very true that writers rely on reviews for their business. I appreciate reviews posted anywhere, for any reason, of any rating. I explicitly don't want to know about them, however. It's number five in the beginning of my FAQ.
Second: When you encounter a book that weirdly lacks some of the author's usual glee, check the publication date. Any book written in 2020 is not going to have the usual bonfire of delight. We were lucky to strike even a spark.
I started writing TLS on 5 May 2020, as we were realizing exactly how awful the pandemic would be. I finished the first draft on 1 March 2021, when vaccines were an exotic treasure limited to health care workers. My wife is a nurse. We lost colleagues and family members to covid. It was not a good year. The mortgage waits for no writer, though.
Thinking I'll use Camus' "The Plague" as a motif for the OpenBSD storage book.
Also yesterday, I got copies of two new anthologies I'm in: Fantastic Christmas and Mysterious Christmas, both edited by Kristine Kathryn Rusch. She has won so many dang awards for writing and editing that she uses the heavier ones as doorstops. (Truth.) While it's horrid form to quote from one's own reviews, quoting what an anthology editor says about your story is merely gauche and I'm all about gauche. The editor's intro to my story in Fantastic Christmas says:
The reason I decided to lead with "The Last Hour of Hogswatch," though, is that it is one of the best stories I've read all year, if not one of the best I've read in the past several years.
Both of these, on the same day.
I probably should see a physical therapist about that whiplash.
In other news: DNSSEC Mastery 2/e is now at the technical review. It uses BIND as the reference implementation, but it's less BIND-centric than the first edition. If you're a DNSSEC expert and want to tech review, drop me a note. Tech reviews are due 8 November. It's only 35,000 words, so a smaller book. I'll be on OpenBSD Storage Mastery next. Sponsorships for that will open when I ship the DNSSEC sponsors their gifts.
Here's the current 2020 books. I suspect this will be it for the year, but one of the things currently cooking might sneak out before the end of the year.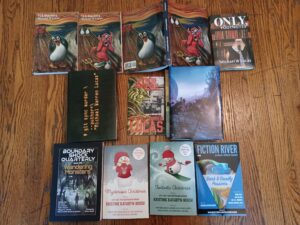 The question you're all dying to ask, I'm sure, is: does this make the total stack taller than me? I don't think so. Maybe next year. But publishing eight and a half inches in a year isn't bad.
Stalk me on social media