Devotion and Corrosion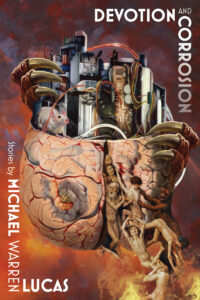 Kickstarting 7 February 2023Out Everywhere 1 May 2023
High Speed Madness,
with Love at the Wheel
Love. The most overloaded word in our language. Love of your mate, love of pets, of parents and children and friends, all different things. We spend our last breath sharing our love. For love, we break not just the law but ourselves. Love is pure devotion, and pure corrosion.
Love propels these stories. Thrillers and fantasies, science fiction and historicals. Love chained by brain implants and little old ladies who should have been left undisturbed. Love strong enough to unravel the universe, with the knowledge to do it. Minuscule love wiggling its whiskers against your cheek. Trapped children freeing themselves through love of the incomprehensible. Love of art and family and another person, the kind of love that violates museums and gnaws Semtex. Selected from a decade of the author's work, these eleven tales affirm the power of love—at knifepoint.
"Each story is Hieronymus Bosch writing a love letter to Charlie Brown's little red-haired girl now grown and so weary she aches." – ZZ Claybourne
(contains Winner Breaks All, Final Gift, Not Getting Away With It, Face Less, Drag Air Through Fire, Whisker Line, You'll Figure It Out, Lavender, Keeping Friends, Burned Out Souls, and Shattered Canvas.)
Vicious Redemption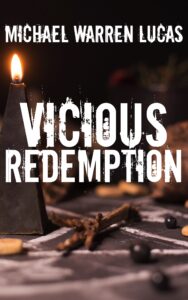 Trapped on a reef with a walking dead man.
A need that cannot be sated or survived.
Nobody else hears the dead dog's murderous ghost.
Whiskey means silence. So do claws.
Mental scars drag the world behind them.
SOME SALVATIONS COST TOO MUCH.
"The five stories in this collection are a real treat for fans of fantasy and horror. Join writer Michael Warren Lucas as he takes you on a trip through perilous supernatural landscapes and explores the darkness and strength of the human heart." – Lucy Snyder, multiple Stoker-award-winning author of While The Black Stars Burn and Soft Apocalypses
(contains Wednesday's Seagulls, Pax Canina, Breaking the Circle, Opening the Eye, and Sticky Notes)