On both Patreon and in my store, I have a What is Wrong With You? Patronizer tier. It is a paltry $250 per month, chump change for all you dot-com gazillionares out there.
So you like the idea of throwing money down a well, but don't want to pollute the water table? Burning cash increases atmospheric CO2 levels? And using bills as toilet paper wrecks the plumbing?

Send your excess cash to Lucas, who will safely dispose of it in the gelato shop.

This is the daft level, for the true Lucas Loony. You get all the benefits of all lower tiers: your name in books! Defaced–er, *signed* books shipped to you! More books! Books books books! So many… blasted… books.

You also get a special "What Is Wrong With You?" certificate, suitable for framing, with your first shipment books. (Upon Patronizer request, an F-bomb may be added to the title.)

I might also send you something special. Something odd. It depends on what I can find around the house.
When the opportunity arises, I will introduce you Crypt-Keeper style.

There is no sensible reason to choose this level, unless you want to submit your support as evidence in your inevitable competency hearing.
In case it's not clear, this level was intended as a joke.
In case it's not obvious, some of you like to take jokes too far.
I figured if anyone actually bought this, it would be a one-off. I designed humorous certificate to mail people when they did. Everybody laughs, we get on with our lives. The thought that someone would pay to Patronize me this thoroughly, and pay for a year in advance, did not occur to me. If you ship me a giant lump of cash, though, I feel obliged to extend a minuscule amount of effort into rewarding you. By watching one of EuroBSDCon's many fascinating presentations and by grilling a mutual friend (who I shall identify only as "MHK-A"), I was able to personalize said certificate.
With my Patronizer's kind permission, I can share it with you. (Click for full size if you're interested.)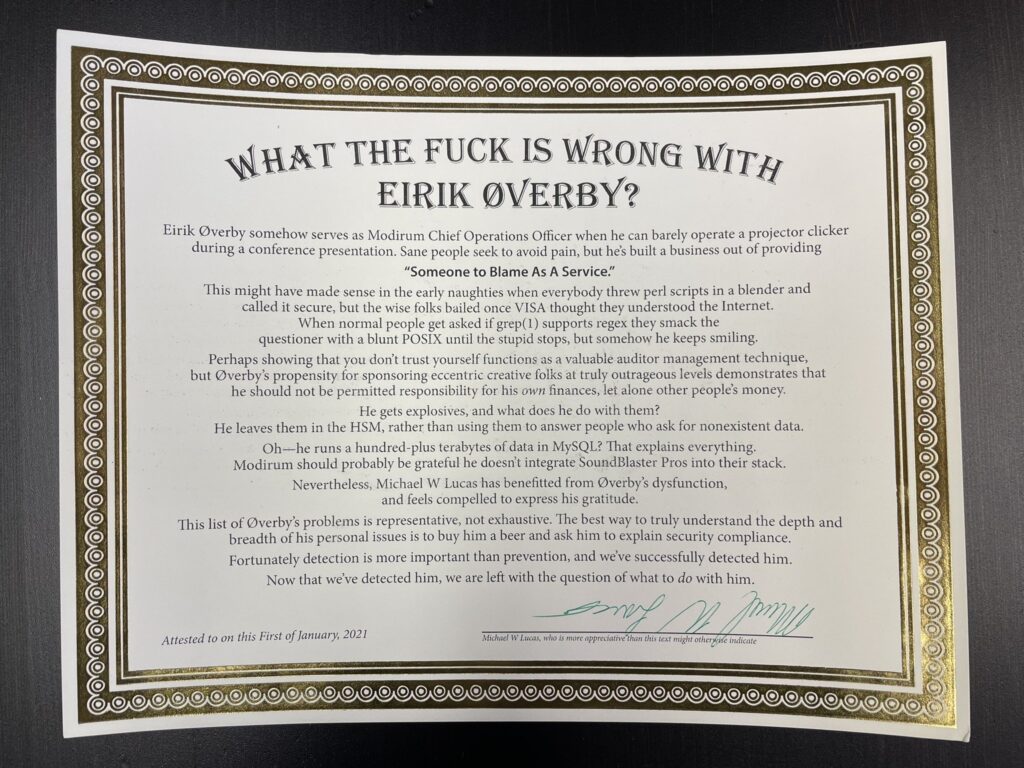 This could be you. For several thousand dollars, mind you, but still.
Oh, and hire Eirik's company. He clearly needs the dough.