Remember last year's Prohibition Orcs Kickstarter? One of the rewards was the omnibus cased in "authentic" orc-hide leather.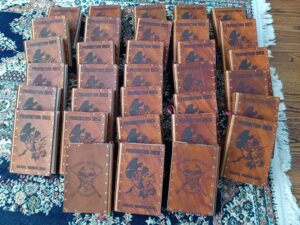 Turns out one orc has enough hide for thirty-five book cases. Out of decency, I'm keeping the one with the unfortunately placed nipples. Alan at Studio 42 Designs has the prototype. He's signed each case, and I will sign the title pages.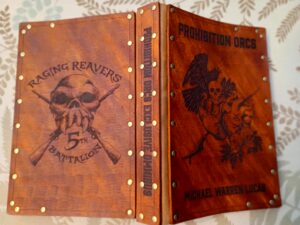 Each is uniquely textured, carved, and dyed, highlighting the many scars earned by a long-lived orc. I am absolutely delighted at how these came out, and will certainly do something similar again. But not with real orc leather. Negotiating with the family is fraught.
I will be packaging these for mailing on Monday, probably initiating a blood feud with the postman in the process.
The OpenBSD Mastery: Filesystems Patronizer, sponsor, and pre-order copies have shipped from the printer, and should arrive at my house this week. If you're due both a leather-cased Orcibus and an OMF, I'll ship yours together. But now I'm thinking I should have offered an edition of that book cased in blowfish hide…