If you're looking for a deal on my first Prohibition Orcs book, check out the Fantasy Steampunk bundle. You can get ten excellent books for as little as $20, and help out AbleGamers while you're at it.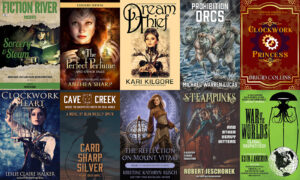 I regularly read all of the authors, and they reliably put out top-tier words. I've even read several of these books, and they were fantastic. I read Collins' bundle-exclusive Clockwork Princess before it was published, and immediately demanded the sequel. You will too.
This bundle particularly excites me. Readers come slowly. Eventually some editor might say "Hey, I'm putting a bundle of books together on this theme, do you have anything?" That's great–someone knows you exist! Someone important! Deal with that well, be professional, do your share of the promotion, and you'll get asked again. And again.
But this time, I wasn't asked if I had anything that would suit the bundle.
No, this time Kris Rusch seized the front of my shirt and said Orcs. I want orcs, dammit. Tell me you haven't already bundled your orcs. It was over email, but Kris can grab you over email. I think this counts as "leveling up."
On top of that, I have a free public reading this next Sunday. With Sufficient Rat. And another nine excellent authors.
Six days from now, the Devotion and Corrosion Kickstarter launches. I just got a print proof of the paperback and it's magnificent.
I just finished fulfillment on the Prohibition Orcs Kickstarter, OpenBSD Mastery: Filesystems sponsorships and pre-orders. I guess this is what success looks like?
Anyway, there's a lot of Lucas this month. Plus, I'm pushing on the last novel of the git commit murder trilogy and the mail server book. (When will that go up for sponsorships? When I have enough text and structure that I'm absolutely certain it will happen.)
Anyway, the bundle is a heck of a deal. Grab it. Come listen to me read. Click to be notified of the Kickstarter. I'm off to write the next books.