Absolute OpenBSD, 2nd edition
OpenBSD Mastery: Filesystems
"Many users assume that their advanced filesystem is better than UFS because they have so many features—snapshots, checksums, compression, sophisticated caching algorithms, and so on—while all UFS has ever done is muck about putting data on disk. But, conversely, UFS users believe their filesystem is better for exactly the same reasons."
—Hitchhikers Guide to OpenBSD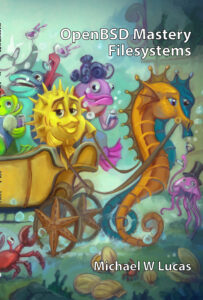 Disk management is the core of system administration. Nobody can tell you how large that database is going to grow or how many files that archive must eventually support, but for everything else there's OpenBSD Mastery: Filesystems. This guide takes you through the latest in OpenBSD storage management, including:
• OpenBSD's cross-platform storage stack
• MBR, GPT, and disklabel partitions
• The Unix File System
• Growing, removing, and repairing filesystems
• Memory file systems
• The Buffer Cache
• Why you need swap, and how to live with it
• Coping with FAT, NTFS, EXT, and more
• The Network File System
• iSCSI
• Software RAID
• Encrypted filesystems
• Encrypted installs
And more! Partition yourself for success and grab OpenBSD Mastery: Filesystems now.
Grab the book from:
Gumroad (DRM-free PDF, epub, mobi, supports EU VAT)
Apple Books
Print from Amazon US, Amazon AU, Amazon UK, Amazon CA, Amazon DE (Kindle versions not available in Amazon's store, grab them direct from me, Gumroad, or any other store)

FreeBSD Mastery: Jails
CONFINE YOUR SOFTWARE
Jails are FreeBSD's most legendary feature: known to be powerful, tricky to master, and cloaked in decades of dubious lore. Deploying jails calls upon every sysadmin skill you have, and more—but unleashing lightweight virtualization is so worth it.
FreeBSD Mastery: Jails cuts through the clutter to expose the inner mechanisms of jails and unleash their power in your service. You will: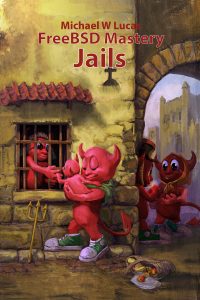 Understand how jails achieve lightweight virtualization
Understand the base system's jail tools and the iocage toolkit
Optimally configure jail hardware
Manage jails from the host and from within the jail
Optimize disk space usage to support hundreds or thousands of jails
Comfortably work within the limits of jails
Implement fine-grained control of jail features
Build virtual networks
Deploy hierarchical jails
Constrain jail resource usage
And more!
Strip away the mystery. Read FreeBSD Mastery: Jails today!
"This is the sequel to Git Commit Murder, right ?"
/phk, creator of the jail system
Get the book from: