Earthquake Kitten Kiss
(a Butterfly Stomp Waltz spin-off)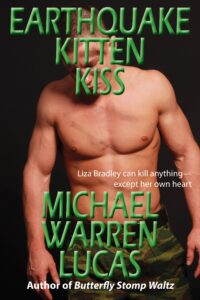 Liza Bradley knows the proper mercies for her career. A painless bullet through the head. An instantly broken neck.
Don't want either? Drop your gun and run away.
Quickly.
Ex-Marine Matt Harrison? Green as lettuce and half as tough.
But as Liza's team strikes their target in earthquake-ravaged Ecuador, Harrison strikes Liza in the only way she doesn't know how to fight.
Bullets and broken bones?
Useless against her own heart.
Get the book at:
Amazon US, Amazon AU, Amazon UK, Amazon CA, Amazon DE, Amazon FR, Amazon IT, Amazon ES

Savaged by Systemd
an Erotic Unix Encounter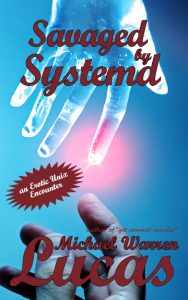 Content warning: yes, this is explicit erotica. For a very, very narrow target audience.
Not your normal Friday night in the computer room.
Not a normal night anywhere.
Terry is the archetypal old-school Unix admin, nurturing servers with care and precision while avoiding the latest trendy garbage. KDE and Gnome on a server? Nope, if you need a GUI use FVWM.
The latest trend Terry refuses? One adopted almost everywhere? Systemd, the replacement init.
So Systemd comes for Terry.
Wearing skin-tight leather pants.
No, not a normal night in the computer room at all…
(Satirical IT erotica)
In audio, print, and ebook, all DRM-free!
Amazon US, Amazon AU, Amazon UK, Amazon CA, Amazon DE, Amazon FR, Amazon IT, Amazon ES

Bedazzled by Blockchain
an Erotic Cryptocurrency Transaction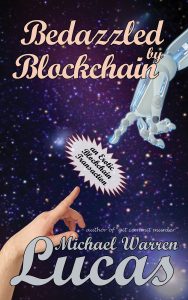 What do the people of the post-scarcity future most value?
Good sex.
When everyone has nanotech implants to monitor their health and nervous system signals, how can you verify proof of ecstasy as the basis of money?
Blockchain.
Will Robert and Mallory's first NookieCoin transaction go disastrously wrong? Or transform their lives for the better?
(Dystopian SF technology erotica)
iTunes